Ravi Vadapalli, PhD has been named Director of Advanced Computing at the University of Miami Institute for Data Science and Computing (IDSC), bringing nearly 19 years of experience in high-performance computing and applications in multiple disciplines to the role. "With his collaborative approach, entrepreneurial spirit, and passion for innovation, Ravi will help us create exciting learning opportunities for our students while supporting research initiatives from our faculty and industry partners," said Nick Tsinoremas, IDSC Founding Director and Vice Provost for UM Research Computing and Data.
Dr. Vadapalli is joining IDSC on February 3, 2022, after serving as Program Director for the Center for Agile and Adaptive Additive Manufacturing and Senior Director for IT Support at the University of North Texas (UNT) in Denton. Prior to UNT, Dr. Vadapalli was a Senior Research Scientist at the High-Performance Computing Center at Texas Tech University (TTU) in Lubbock. In those roles, he helped secure nearly $3 million dollars in external funding, more than $40 million in grant proposals, and more than $230 million in-kind grants for skilled workforce training.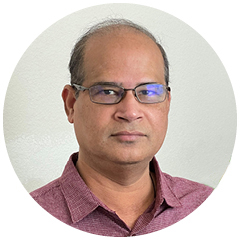 "I am excited about coming to UM and creating new streams of collaborative research through advanced computing services," Dr .Vadapalli said. "IDSC is a national leader in leveraging data science and high-performance computing to solve some of the most challenging questions in science, medicine, engineering, architecture, and the liberal arts."
One of Dr. Vadapalli's priorities is advancing cancer care and research through machine learning (ML), artificial intelligence (AI), and powerful computer models. At TTU, he partnered with researchers at M.D. Anderson Cancer Center and Rice University to accelerate the development of patient treatment plans. "I look forward to developing data sets and models to support collaborative IDSC research partnerships with faculty at the UM Miller School of Medicine," he said.
"Training the future workforce is
invigorating and exciting as
students' skills prepare them
to change lives and improve society."
Dr. Vadapalli is also interested in applying advanced computing tools to develop sophisticated climate models involving ocean and atmospheric conditions. "We can use tools like machine learning to identify the initial conditions for the model, and then drive simulations that will result in more accurate outcomes," he said. "IDSC's advanced computing resources can be applied to many other fields as well, supporting both academic and commercial research. Along with leading-edge computing technology, we offer the benefits of experienced faculty and a growing base of students who can apply their skills to drive innovation."
Students can provide fresh ideas and implementation support for IDSC's partners Dr. Vadapalli added. "Training the future workforce is invigorating and exciting as students' skills prepare them to change lives and improve society," he said. Dr. Vadapalli plans to advance IDSC's ability to identify new data analytics applications, engage faculty and students, and deliver results to users. That process includes training users on high-performance computing resources, identifying their use of IDSC services, and providing opportunities to scale initial projects and bring new technologies to market.
"A decade ago, users went to the data center to build applications," he explained. "Now, computing resources are moving to the edge, with a composable approach that simplifies the process of creating and adapting new applications. I'm looking forward to the next advances in the global technology ecosystem."
Dr. Vadapalli holds a Doctorate in Nuclear Physics from Andhra University in India, and a Master's degree in Computational Engineering from Mississippi State. He and his wife have two sons.