Join us on Thursday, September 30, 2021, as we launch the second year of our fascinating Meet a Data Scientist lecture series. We are pleased to welcome former IDSC Director of Outreach and Engagement Athena Hadjixenofontos, now head of the Wells Fargo Quantitative Analytics Center of Excellence on AI Model Development in Phoenix, Arizona, for a talk on how she uses data science in her new role.
Athena leads the NLP (natural language processing) Risk & Compliance team at the AI Model Development Center of Excellence within Wells Fargo's Enterprise Analytics and Data Science organization. Under Athena's leadership, the talented data scientists on the team have developed models that improve risk mitigation efforts across business lines and ensure regulatory compliance.
Register Now |  Thursday, Sept. 30, 2021, 4-5 PM via Zoom
The Meet a Data Scientist Lecture Series is a chance to get up-close and personal with top-level experts in a wide variety of fields that use data science.  The purpose of this series is to introduce you to the people behind the data, their lives, interests, career choices, their work, and their passion for how they use data to solve grand challenges in their respective fields.  Join us as we peer behind the curtain and meet the data scientists behind the data! This virtual lecture series is free and open to the public.
About Athena
Athena got her PhD in statistical genetics from the University of Miami Miller School of Medicine, and went on to complete her postdoctoral training at Yale University. She lives in Phoenix with her neuroscientist wife, their curious toddler, and one very relaxed cat.
Upcoming Lectures
4:00-5:00 PM via Zoom
Talk Title: "Model Development with High Dimensional Data" 

4:00-5:00 PM via Zoom
Talk Title: "When Are Texts Data? Views from a Data Humanist"

4:00-5:00 PM via Zoom
Talk Title: "XR: From theory to practice"

4:00-5:00 PM via Zoom
Talk Title: "Can data science help us understand the laws of nature?"

12:00-1:00 PM via Zoom
Talk Title: "Human-Machine Collaboration and Communication"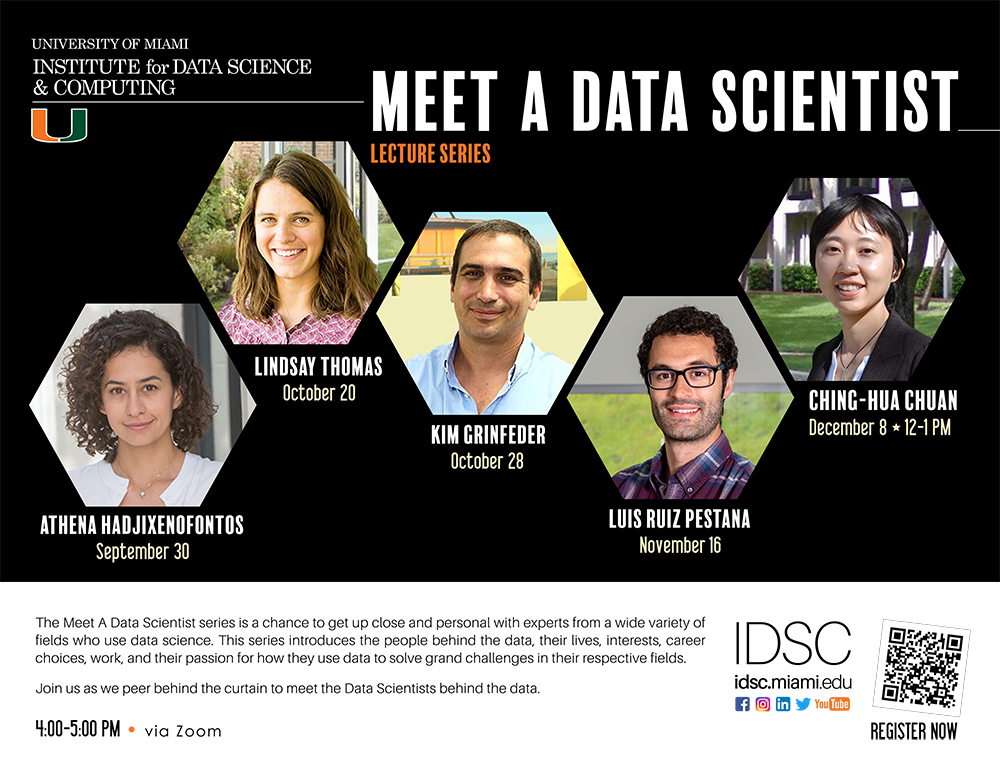 Tags:
Athena Hadjixenofontos
,
Data Scientist
,
Evelyn Cruz
,
Karen Rose Mathews