A National Institutes of Health (NIH) consortium on artificial intelligence has tapped the Director of Ethics + Society of the University of Miami Institute for Data Science and Computing (IDSC) for its external advisory board.
"The University of Miami is at the national forefront of raising and addressing issues related to data ethics, health equity and diversity."
"The University of Miami is at the national forefront of raising and addressing issues related to data ethics, health equity and diversity." said Kenneth W. Goodman, PhD, who is also the Founder and Director of the UM Miller School of Medicine's Institute for Bioethics and Health Policy and the Director of the University's Ethics Programs.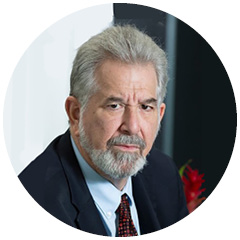 "Artificial intelligence and machine learning are making vital contributions to healthcare, business, transportation, and a host of other disciplines," Goodman said. "To avoid faulty assumptions or inherent biases, ethical concerns must be considered right from the start, including the documentation and provenance of data, as well as its fitness for the intended purpose."
Goodman will serve as an advisor to the nationwide NIH Artificial Intelligence/Machine Learning Consortium to Advance Health Equity and Researcher Diversity (AIM-AHEAD), whose goals include reducing health disparities and building databases that more accurately reflect the diverse U.S. population.
Goodman's appointment follows a recent NIH grant for IDSC to spearhead the AIM-AHEAD program's infrastructure core. "Most of our current data is biased  and the people collecting this data are often not representative of all minorities and cultural differences," said Nick Tsinoremas, PhD, IDSC Founding Director and UM Vice Provost for Research Computing and Data. "We want these biases eliminated, but we also want to create an infrastructure that encourages minority-serving institutions to do this research to create more equitable or unbiased approaches."
Ethics, AI, and Medicine
The growing use of AI and machine learning in medicine and health requires attention to ethical issues, said Goodman. For instance, access of a patient's electronic health record (EHR) should be simple for physicians, nurses, and patients, but well protected from cyber criminals. "We need to balance different goals, such as protecting patient privacy and security, while granting access to providers who need that data and who use that information to improve health outcomes."
Another ethical issue involves the use of AI-driven text generators, such as GPT-3 by research lab OpenAI, in the medical field. "Academic institutions are watching this field closely to be sure students are not using these tools in their own writing," he said. "However, a well-regulated and transparent AI-driven text generator can be helpful in many contexts."
In medicine, for example, physicians could use AI tools to produce accurate, well-written patient reports, reducing demands on their time while potentially improving patient engagement. "We are planning a UM conference on this topic next year," said Goodman.
Leadership on Ethics Issues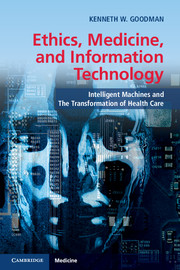 In 1997, Goodman co-founded the Ethical, Legal and Social Issues Working Group of the American Medical Informatics Association (AMIA), prior to publishing his seminal book on Ethics, Computing, and Medicine. His most recent publication builds on that theme as co-author of the "Ethical and Policy Issues" chapter in a 2022 book, Intelligent Systems in Medicine and Health: The Role of AI.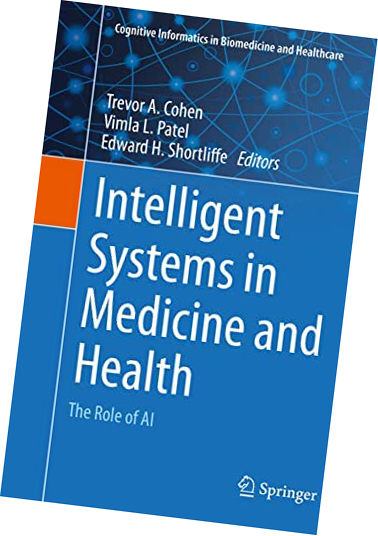 In November (2022), Goodman played a leading role in the 25th anniversary meeting of the AMIA's Ethics Working Group in Washington, D.C. "Ethical, legal, and social issues (ELSI) are deeply intertwined with the practice of biomedical and health informatics," Goodman said.  "The design and implementation of health information technologies (HIT) must be driven by the needs of patients, healthcare providers, and society-at-large."
Goodman has also been a speaker and panelist in a number of recent U.S. government events and workshops, including the National Institute for Standards and Technology (NIST) "Research Data Framework Stakeholder Workshop on Data/Research Governance" in June 2022, an Agency for Health Research and Quality (AHRQ) national web conference on Clinical Decision Support Efforts that Assist Clinical Cognitive Processes (VIDEO) and a Food and Drug Administration (FDA) workshop Transparency of Artificial Intelligence/Machine Learning-enabled Medical Devices: The Meaning and Role of Transparency, both in October 2021.