from the director
I am pleased to share with you a look back at a year's worth of exciting progress at IDSC, as told by writer Alan Gomez, who offers a glimpse at where it might take us . . .
A computer science prodigy who started college at age 12 and received his PhD at 24. A scientist using machine learning to teach 5G mobile networks how to adjust to real-time disruptions on their own. A scientist teaching computers how to identify lung cancer in X-rays and predict blood clots ahead of time. These are among a wave of new hires at IDSC that represents a defining leap for the Institute.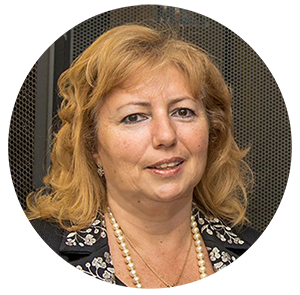 The expectation is that these new hires, all in the Institute's Artificial Intelligence and Machine Learning (AI/ML) research focus area, will also serve as ambassadors to students and faculty across all departments at the University to get them to incorporate more data-driven and computer-assisted technology into their research.
"We want to bring this novel, disruptive
technology into the classrooms."
"The most important thing for us is to empower science across all disciplines at the University of Miami," said Yelena Yesha, a world-renowned computer scientist who heads the AI/ML program at IDSC. "It's not just computer science, it's the Medical School, the Law School, Communications, the Marine School, it's all of us from A to Z. We want to bring this novel, disruptive technology into the classrooms, but also into the labs and to the academicians to empower them to be very competitive and come out with world-class results in their disciplines."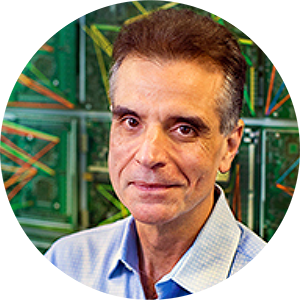 IDSC, when it was known as the Center for Computational Science  or "CCS" (2007-2017), used to serve mostly as a support system, providing high-performance computing to the small number of researchers at UM who even knew what to do with a supercomputer. But in early 2020, just before the start of the COVID-19 pandemic, CCS rebranded itself as IDSC (eye-disc) and redefined itself as a place for students and faculty across the University of Miami to develop new software and tools that benefit from that computational power.
"IDSC is now working at 'light speed'
to hire as much talent as possible."
After the campus-wide slowdown during the first two years of the pandemic, IDSC Director Nick Tsinoremas said the Institute is now working at "light speed" to hire as much talent as possible. IDSC has hired four new faculty members over the past year and expects to bring in 15 more over the next three years. Tsinoremas decided to start that expansion with the AI/ML unit because he sees it as the "backbone" of the Institute, the innovative muscle behind the research he hopes to accomplish across all schools and departments at the U. "Our full Institute is about data science, and AI/ML is the technology that powers all the programs," he said.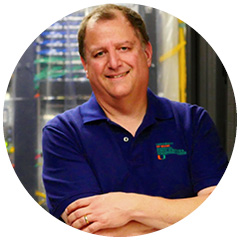 Most of the new hires will be "joint appointments," meaning their salary and their responsibilities are split 50-50 between IDSC and another department at the University. IDSC Deputy Director Ben Kirtman said that strategy accomplishes several goals: it allows them to collaborate more directly with colleagues in different departments, it reduces their teaching load by 50%, and it encourages them to push data science and AI/ML techniques to UM students and faculty who may be learning about those possibilities for the first time.
For example, David Chapman, the computer science prodigy, is working with his colleagues at IDSC, but his office is in the Department of Computer Science, he's collaborating with researchers at the Miller School of Medicine, and he already has ideas of teaming up with researchers in other departments. "That's the whole point of these joint hires," Kirtman said. "These folks have a responsibility to infuse data across the campus."
The Origin of the Interdisciplinary Approach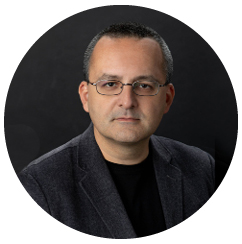 The idea of sharing IDSC experts with other departments has been around since the inception of the Institute, and its leaders have been prime examples. Tsinoremas has a PhD in molecular genetics and is a Professor of biochemistry, molecular biology, and health informatics, so he splits his time between IDSC and the Miller School of Medicine. Kirtman focuses his research on atmospheric sciences, so he splits his time between IDSC and the Rosenstiel School of Marine and Atmospheric Science. In fact, every member of IDSC has a foot in two camps.
Alberto Cairo is the Knight Chair in Visual Journalism and an Associate Professor in the School of Communication, where he uses his decades of experience as a data journalist to teach students how to create infographics and design graphics. But he's also the Director of Visualization at IDSC, where he helps scientists identify their most compelling data and determine the best way to present that data in their papers, press releases, and websites. "We journalists tend to oversimplify, but scientists tend to overcomplicate because they want to show all the data," Cairo said. "The middle ground is usually the way to go."
"If you cannot present data in a way
that is understandable,
people will simply not look at it."
Cairo also does training for organizations outside UM. He held a training session in June for Microsoft's "AI for Good" team to help them better synthesize and display their data, and he held a month-long session for World Bank staffers who are focused on poverty and equity. In each case, he's pushing the same message that he's trying to sell at IDSC. "Organizations are realizing that no matter how much data you have, if you cannot present it in a way that is understandable, relatively easy to navigate and to digest, people will simply not look at it," Cairo said. "The goal is not to have the data, the goal is to promote understanding."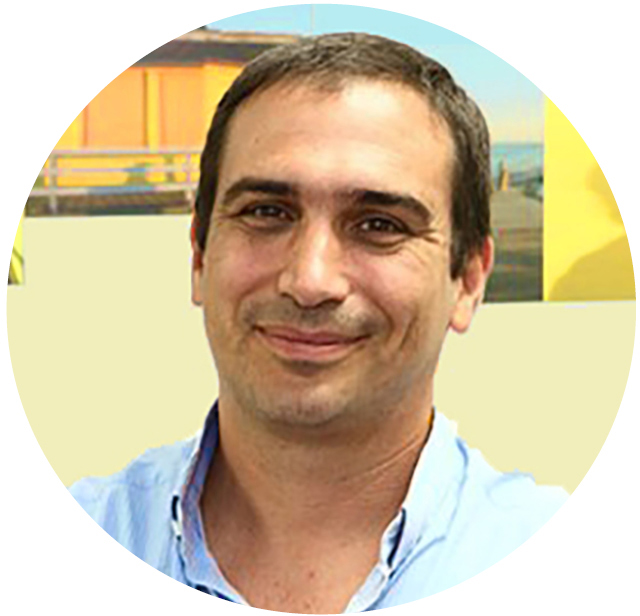 Kim Grinfeder also operates in multiple worlds. The Department Chair of Interactive Media in the School of Communication is a pioneer in the emerging metaverse and all types of XR technologies (virtual, augmented, and mixed reality) and collaborates with professors across the University, private companies, and governments. But he's also the Director of Creative Computing at IDSC, where medical professionals build virtual training simulations to practice techniques and UM faculty create environmental and educational VR projects.
To expand access to Grinfeder's Creative Computing unit, IDSC rolled all their XR services into the newly-formed Digital Twins Lab, which serves as a one-stop shop for students and faculty who want to learn about, or build their own, apps using XR technologies. IDSC has awarded grants to 32 faculty members and 11 students to produce apps, but Grinfeder believes more people across the University need to take advantage of the Lab.
"There was a pedagogical need to give students an opportunity to work in software development," he said. "That didn't exist on campus, and we really wanted a structured place where they could get mentoring and experience as they would in the real world, as they would in industry, so they don't hit the road and all they did was just classes."
Using those examples as the template, IDSC is now trying to push artificial intelligence and machine learning campus-wide.
AI/ML Takes Root
The origin of the AI/ML unit can be traced back to a misunderstanding.
Yesha thought she was simply visiting the University of Miami to give a lecture about her work. The Ukrainian-born computer scientist had established herself as one of the most innovative minds in the world after publishing 11 books, more than 200 papers, pulling in more than $56 million in research grants, and doing groundbreaking work for U.S. government agencies, private companies, and academic institutions.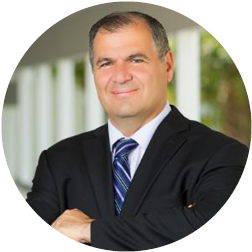 When she finished her lecture, someone insisted she still had an appointment left on her schedule. "What schedule? I want to go to the beach," she recalled. "They said, 'No, you have to meet the dean.'" That meeting with Leonidas Bachas, Dean of the College of Arts and Sciences, turned into a formal job interview and before long, Yesha was leaving her position as a Distinguished University Professor at the University of Maryland, Baltimore County (UMBC), to become Chief Innovation Officer and the Director of the AI/ML Unit at IDSC, the first Knight Foundation Chair of Data Science and AI, a tenured Full Professor in the Department of Computer Science, and a Full Professor in the Department of Radiology at the Miller School of Medicine.
That hiring alone represented a historic leap for IDSC. Yesha led teams that created one of the Federal government's first electronic commerce systems, repaired the Hubble Space Telescope, and mined health care data to forecast illnesses, improve diagnoses, and forge therapeutic outcomes. Tsinoremas said what truly sets her apart, however, is her ability to anticipate which technologies will become commercially viable and will have a broad impact on society.
"We are very fortunate to have her because she has the innovation aspect, how to transition the academic discoveries to the private sector and become a successful company, which is part of what we're trying to do," he said.
"This is the future.
This is the disruptor."
Yesha is currently working on a wide range of projects, from using blockchain technology to protect nanosatellites in space to using artificial intelligence to improve cybersecurity. But her main focus remains in the medical field. In one case, she's trying to use the full suite of computer technologies to identify, model, and treat tumors. She's working with radiologists at the National Institutes of Health, and now with researchers at the University of Miami Sylvester Comprehensive Cancer Center, to develop personalized models of patients' tumors to help doctors develop therapies specific to them. "This is the future," she said. "This is the disruptor."
Given her resume, Yesha could've picked her next job. She chose the University of Miami in part because of its commitment to data science, its pledge to hire a robust team of experts, and the funding behind that plan. The AI/ML expansion she's overseeing is funded in part by the University, but also by grants from government agencies like the National Science Foundation, private sector companies like biomanufacturing leader Resilience, and nonprofit organizations like the Patient-Centered Outcomes Research Institute (PCORI).
"What attracted me here is an opportunity to build and make a footprint and, as they said in the famous song, to do it my way," she said.
New Blood, New Ideas
Each of the new AI/ML hires brings a unique background, set of skills and research goals, but Tsinoremas said they all have one thing in common: a natural desire to collaborate. "We don't want to have just individuals, we want them to be parts of teams," he said.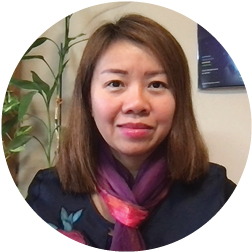 Phuong Nguyen, the computer scientist who's teaching computers to identify lung cancer and predict blood clots, decided to leave her position at UMBC because it would give her the opportunity to work directly with the Miller School of Medicine and the Jackson Health System. But starting in August, she's also working as a Research Associate Professor in the Department of Computer Science and will also play a key role at IDSC.
Nguyen has spent years developing an algorithm that allows a computer to identify even the smallest case of lung cancer based on a CT scan. She's also been developing a system that can bring together a patient's entire medical history to help doctors more quickly and effectively identify people on the verge of developing possibly fatal blood clots. Nguyen has made remarkable progress in both areas, but she said her research was limited at UMBC because she was so often working on her own.
"I collaborated sometimes with the University of Maryland Medical School, but it's not the same," she said. "Miami has a medical school, UHealth, and the opportunity to work closely with medical students and the clinical practices."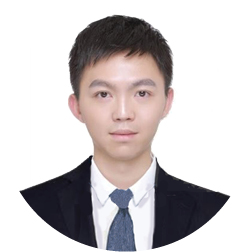 Mingzhe Chen, the computer scientist who's trying to create adaptive, machine-learning algorithms to replace the rigid-frame structures currently used to manage 5G networks, said collaboration with colleagues from different research areas is critical to his work.
He has a PhD in computer and electrical engineering, but his work is at the intersection of artificial intelligence, machine learning, game theory, optimization, wireless communications, and networking. When he looked around the country for universities that had those combined capabilities, he narrowed it down to "one or two" and decided on UM because of their plans to further bolster those teams.
"I definitely wanted to find a place where they wanted to emphasize and hire more people in those areas," said Chen, whose joint appointment places him in the College of Engineering.
"We're going to find and hire
the leaders who are going to set
the agenda for the next generation."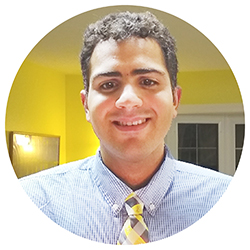 David Chapman is using his joint appointment to improve the machine learning algorithms used to detect various diseases from X-rays and CT scans. Working with radiologists at the Miller School, Chapman is trying to create algorithms that can succeed wherever they're deployed, not only in the limited, controlled settings where those technologies are mostly deployed. He said accomplishing that would be impossible working alone. He needs feedback and input from radiologists and doctors, and they need his computer science expertise to finetune the complex algorithms.
"That was one of the things that attracted me to IDSC in particular," Chapman said. "There's no one person who has all the knowledge. We need different perspectives and we need to put our heads together."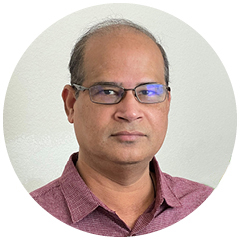 Ravi Vadapalli, who has a Ph.D. in nuclear physics, was hired in February as IDSC's Director of Advanced Computing, where he is responsible for managing the vast computational power of the institute, including the Triton supercomputer. But Vadapalli is also responsible for enabling strategic research, training capabilities, and recruiting researchers across the University to tap into all that computing power.
He brings unique expertise in terms of recruiting private industry, fostering industry-research partnerships, crafting interdisciplinary grant collaborations for new streams of research capabilities, and skilled workforce development. Given his wide-ranging history of research across science, engineering, liberal arts, and medicine, he's also a strong proponent of IDSC's research strategy. "My goal is to explore how I can help researchers unlock the wide range of computational capabilities to solve the most challenging science problems," he said.
Charting a Course for the Future
Nguyen, Chen, Chapman, and Vadapalli have been tasked with an additional responsibility that is not common for newcomers at a university: they are expected to help chart the course for IDSC into the future. It's not enough for them to arrive in Coral Gables and do their research. They will have a strong voice in the Institute's decisions on what to research, what grants to pursue, and what additional faculty to bring in.
"We're going to find and hire the leaders who are going to set the agenda for the next generation," Kirtman said. "I feel like we're just getting started."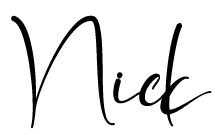 Nick Tsinoremas, PhD
idsc founding director  |  vice provost for research computing and data
---
Tags:
6G
,
Alberto Cairo
,
Artificial Intelligence
,
Ben Kirtman
,
Biomanufacturing
,
David Chapman
,
Digital Twins Lab
,
Kim Grinfeder
,
Leonidas Bachas
,
Machine Learning
,
Mingzhe Chen
,
Nick Tsinoremas
,
Phuong Nguyen
,
Ravi Vadapalli